McPeak's Assisted Living Newsletter
July 2014 Newsletter
By Linda Ohlsen, Recreation Director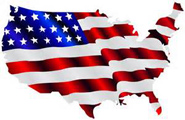 In June, we found ourselves becoming quite patriotic as we decorated our home in anticipation of Flag Day and also the Fourth of July.
Guests chose red, white, and blue pails and decorated them with stars, streamers and American flags. Elisabeth Sommers, Ruth Beal and Madeline Pedota each did a lovely arrangement that looked wonderful on our recreation room mantel. Also adding sparkle to our room were the patriotic wreaths made by Charlotte Hoffman and Millie Vederosa. Visitors were curious about what our wreaths were fashioned from and were amazed to find we had used old cds.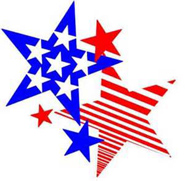 Antonia Levato and Alex Salmin helped us decorate our hallway for the summer and Celia Wysocki and Peter Icolari fashioned the folk art stars that helped to finish off the display.
There was lots of music to fill our summer days, beginning with an hour long piano performance by Bob Shade. Bob's selections included many tunes that we could easily recall and so we had fun singing along. Anna Wanamaker and Evelyn Grasso were among the best voices in the crowd.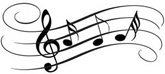 Ray Lani's sing along was also terrific with guests Peter and Mary Icolari joining in the musical selections Ray played on his guitar.
Tony Grant, a regular entertainer here gave a fantastic performance that all enjoyed. His program was a salute to the month of June and featured songs that recognized June events, such as Flag Day, Father's day, weddings and graduations. Tina Schillings was an active participant in Tony's program. Tina correctly answered all Tony's musical trivia questions and for this received a special trophy as she marched down the "aisle" to the strains of "Pomp and Circumstance" wearing a graduation gown. Philip Cantone appreciated Tony's program too, dancing to "Under the Boardwalk" and other 50's hits.
Rocco of Rockin' Robin also offered a fabulous program with music from the 40's through the 60's. Rocco's program truly had music for every taste and I enjoyed dancing with Mildred Hartman, Celia Wysocki, Lucy Palazzo and Alex Salmin. I also enjoyed hitting the dance floor with probably our best dancer here, Joe Gold. Joe and I had a ball dancing to an old Dean Martin hit "Ain't Life a Kick in the Head" a song we both enjoy.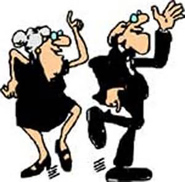 As the temperatures began to rise, we kept our cool participating in some of our favorite activities. Table games with great prizes are always a hit with Paul Trouve and Jackie Johnston and both were big winners at the games.
Word games kept Lois Martucci and Marjorie Taylor on their toes this summer as they called out the answers to our patriotic and summertime foods quizzes. Reminiscing is fun too and Susan Lindauer and Alex Salmin shared their memories of July 4th festivities, fairs and amusement parks with us during the month.
Lucy Palazzo and Margaret Titolo were among the many bakers who helped prepare the delicious chocolate chip brownies that were enjoyed during our afternoon bingo games. Working off those brownie calories through our exercise program was fun. Robert Baumann, Millie Verderosa and Joe Gold are excellent basketball players and Fran Skotko and Anna Wanamaker have certainly mastered all our exercises including the ones using weights. Bowling keeps us active too and Bobbie Smith, Larry Judson and Evelyn Grasso were among our high scores this past month.
Ellen Anders, Edwin Weinmann and Donald Wiggins love every minute of our pet therapy visits. Our two dogs, Dustin and Ayla are always well behaved and very affectionate offering lots of cuddles and kisses to all.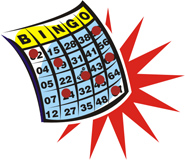 Our monthly bingo winner for June was Gilda Messina. Gilda's toughest competition came from Lee Kulakowski and Larry Judson but Fran Zummo and Ruth Beal also had very nice scores last month.

FREEDOM!
We greet the Fourth of July
As fireworks are released toward the sky
Causing many cheers and shouts of glee
Because this land remains forever free
All should take a moment to revive
The 18th of April back in seventy-five
When Paul Revere took that midnight ride
Warning that the British were on the seaside
It's been many, many decades since
The fight for independence was commenced
Thus, old glory will wave forever more
Assuring freedom by each sea and every shore
Let our forefathers be eternally praised
For their fervent fights; with voices raised
So he could be free; needless to say
To celebrate this Independence Day
By: Tina Schillings
For your convenience, our newsletter and recreation calendar can be found on our website;
www.mcpeaks.com
or our face book page,
www.facebook.com/McPeaksAssistedLiving