McPeak's Assisted Living Newsletter

November 2014 Newsletter
By Liz Turner, Recreation Director

Before we knew it summer had passed, the leaves were changing colors and the air was crisp. We are looking forward to the change of weather as we move into the fall season. We made our Halloween crafts that, included a huge spider web, that hangs in the recreation room.
Ruth Beal, Maureen McCarthy, and Bobbie Smith made some fantastic looking spiders and we also made some cute black cats. Elisabeth Sommers and Anna Wanamaker did a great job. Flying bats were made as well.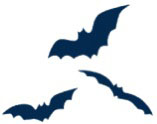 We reminisced about days gone by, superstitions and trick or treating. Marjorie Taylor remembered seeing a bat in her attic; Larry Judson also saw a bat in his house. Peter Icolari had a black cat cross his path and of course nobody wants to walk under a ladder.

In keeping with the season we baked pumpkin bread. Millie Verderosa, Antonia Levato helped us mix the batter. And of course we all enjoy eating it too! On Halloween we bowled with our Halloween costume hats on. Bill Jones was a pirate; Mildred Hartman was looking good as a cowgirl, Susan Lindauer was a flapper
Entertainer Lou Paioli who has a great voice, keeps us dancing! Philip Cantone was cutting a rug along with Alex Salmin and Lucy Palazzo. Chocolate ice cream was enjoyed by everyone. We also had Bob's Piano favorites join us for a performance that we could all sing along to. Carolina Martin with her angelic singing voice joined in.
We had a pet therapy dog named Jessie who is a shih tzu, who enjoyed giving kisses and receiving pats

on the head. John Ritz did not want to see Jessie leave. Jessie picked a comfortable spot on Gilda Messina's bed to sit. Edwin Weinmann and Donald Wiggin's adored this lovely visit from our Pet Therapy, who comes monthly.
Exercise was regularly attended by Frances Skotko and Larry Judson. We worked out with our hand weights and did some stretching too. We put our chairs together in a circle and played a game of toss with a ball. Tina Schillings and Larry Judson try to outdo each other catching the ball. Susan Lindauer likes this game too, as does Ellen Anders.
Our regular table games are always fun. We know a lot of the answers to the questions. Peter Icolari is very knowledgeable. Bingo is always looked forward to playing. Ellen McCormack and Frances Zummo did well. But Millie Verderosa was the big winner of the month.

As the summer ends, we also say our farewells to Linda Ohlsen, who lead us as the Recreation Director for the past twenty seven years- has retired. She will be missed dearly by both staff and the residents here at McPeaks. Our going away party for Linda displayed a huge Happy Retirement Banner in pink. Cake, food, a fruit display (carved out by Carmen) and cocktails ended lunch with a BANG! Tearful goodbyes, hugs and kisses were given.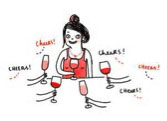 Liz Turner will now be taking over as the Recreation Director and looks forward to her new position here at McPeaks Adult home.

For your convenience, our newsletter and recreation calendar can be found on our website;
www.mcpeaks.com
or our face book page,
www.facebook.com/McPeaksAssistedLiving