McPeak's Assisted Living Newsletter
January 2015 Newsletter
By Liz Turner, Recreation Director

The holiday season was upon us here at McPeaks. For our mantel we decorated mini Christmas trees with garland and hung sparkling ornaments on them. The trees on a bed of red tinsel with our names on each tree it looked very festive. Madeline Pedota worked hard to make her tree just right. Antonia Levato's tree was also beautifully done, and Carolina Martin's put a star on the top of hers.
Crafts were made to decorate the recreation room. We had fun turning paper plates into wreaths with bows and gift tags. Ellen Anders wreath looked lovely as did Charlotte Hoffman's. We had a guest crafter Beth come in to help us make Christmas stockings. Catherine Budd drew trees and sleighs on hers. Maurenn McCarthy made a special one to give as a gift. Lois Martucci was especially pleased with hers. We hung them in the hallway along with the Polaroid photos Beth took.
The Christmas tree in the lobby was set up and we all took a turn hanging ornaments as we were served eggnog and cookies. The tree had the popcorn garland we all strung, and the construction paper links Margorie Taylor worked on helped to make it a beautiful sight. In the living room the tree was decorated in silver and gold as we sung Christmas songs. Edwin Wiggins lent a helping hand to hang some ornaments with us.

Reminiscing about Christmas past we all agreed with Harriet Kulbokas that spending time with family is what we liked about the holidays the best. Pat Lindauer said baking cookies was a tradition at her house. Ana Wanamaker told us her favorite song is "Joy to the World", and Maureen McCarthy favorite movie is "Home Alone". Anne McTiernan said she used to like to shop at Sears for her gifts.

A busy month we had for entertainment, Brownie Troop 3116 made us a happy holiday sign when they came to sing Christmas Carols. The Brookhaven Learning Center also sang to us and brought us Christmas cookies. The church of Nazarene choir presented us a beautiful show, as we served soda and cookies. Billy Jones and Evelyn Grasso really enjoyed singing along. We also had Tony Grant come and sing some Christmas songs as JoAnne Brooks did some "Twinkle Toes" dancing.
From P.R.A.A.T we had a new puppy come visit us named Samboka and her owner Marlene. Lucy Palazzo and John Ritz thought the puppy was really cute. Of course Jessie our regular pet therapy dog with her owner Jill who came to see us. Roland Basini and Bob Rogerson like to pet him.
The new exercise we do "sit-ercise" is a big hit. Mary Morris and Joseph Gold joined us as we moved to the music. We also keep fit with tossing the ball around and lifting our hand weights. Frances Skotko even tried something different using scarfs to wave around.
Ruth Beal and Tina Schillings look forward to our afternoon bingo games. This month Catherine Budd was the big winner of the month! But Larry Judson and Celia Wysocki were right behind her with games that they won too.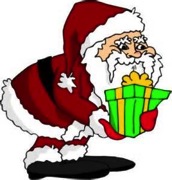 The highlight of our Christmas season was as always, our holiday party. A delicious buffet luncheon was served as we listened to Freddie Prinz on keyboard playing all our favorite Christmas tunes. Santa was on hand to give out gifts to all.
It was a wonderful holiday season here. Now, we look forward to our New Years's Eve Party on the 31st and a great year ahead filled with fun, friendship and a few surprises too.
For your convenience, our newsletter and recreation calendar can be found on our website;
www.mcpeaks.com
or our face book page,
www.facebook.com/McPeaksAssistedLiving