McPeak's Assisted Living Newsletter
February 2015 Newsletter
By Liz Turner, Recreation Director
The New Year is here at McPeak's. We decorated our mantel with decorative Chinese takeout boxes that we filled with tissue paper and snowmen and pine cones. Millie Verderosa put two snowmen in hers. Marjorie Taylor and Maureen McCarthy were so impressed with how it looked. We also made penguins for the wall in the recreation room. Carolina Martin thought they looked formal in there tuxedos.

This month we also did some drawing. With the help of her son Will, Charlotte Katen did an abstract doodle that was very impressive. Anne McTiernan did an impressive version of a pine tree. Even though we had no snow we made snowmen out of paper plates with brightly colored ribbons for scarfs. Millie Verderosa gave her snowmen eyebrows; Marie Badamo put eyelashes and eyebrows on hers. They all looked beautiful.

We had a sing a long this month and Mary Morris sang along with Perry Commo's "Papa Loves Mambo and commented that they don't write songs like they used too. Charlotte Hoffman was glad to hear "Music! Music! Music" by Teresa Brewer and Frances Skotko remembers the song "Barney Googly ", with the goo-goo-goo-ga-ly eyes. We have some good singers here at McPeaks like Gene Barbour and Carolina Martin have a good singing voice, and I here Robert Bauman has a great voice too.
Bob Shade visited and played the piano with some oldies but goodies. Robert Rogerson who used to play the drums accompanied Bob by playing the bongos. We had a lot of fun singing along especially Anna Wanamaker and Joanne Brooks.

Bobbie Smith and Joseph Gold always get high scores for our bowling game. Between rounds I tell some jokes that have Evelyn Grasso cracking up. We also have been doing a bean bag toss with Charlotte Hoffman and Harriet Kulbokas doing very well.

Jill brought Jessie one of our pet therapy dogs form P.R.A.A.T to see us. We also had Susan and her daughter Brook brings in two rabbits and a chicken to visit with us. We were amazed to see that the chicken liked to hang out on Celia's walker like it was his perch. And Joseph Gold found a new friend as one of the bunnies made himself at home on Joe's lap. Thomas Bauer was surprised, as was many of us, how soft the chicken was when we petted it.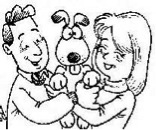 Also from P.R.A.A.T Marlene came with the little puppy Sambuca to see us. Frances Skotko was surprised to see how much he grew in two weeks. Edwin Weinman and Donald Wiggins always look forward to the visits form our furry friends.
We made fudge brownies and Pat Lindauer told us how she liked to bake with her mother, Tina Schillings showed off her knowledge by answering majority of our table games and Frances Zummo shared memories about her husband smoking his pipe.

For entertainment we had Nina ET Cetra stop by to play for us. It was Harriet Kulbokas birthday that day so Nina sang a happy birthday song to her. Mildred Hartman enjoyed the show and did some dancing, as did William Jones and Lucy Palazzo. We also had entertainers Vivian and John visit us. They gave us a great performance featuring great songs from the 40's and 50's. Everyone enjoyed the show especially Joe Dambrouso and Bettie Smith.

We tried a new exercise "A Walk in the Woods" we sat in our seats as we walked through the woods along the trail we had to wave our hand around as bees flew around us, also had to step up over logs and branches, we even did some swimming in a lake.
Bingo is a regular activity after lunch. Thomas Bauer joined us for a round of bingo and won the first game! This month we had Matt, Nicky, and Sam from the Bayport Blue Point School joined us to call bingo and help us with our chips. Millie Verderosa was the big winner!
For your convenience, our newsletter and recreation calendar can be found on our website;
www.mcpeaks.com
or our face book page,
www.facebook.com/McPeaksAssistedLiving