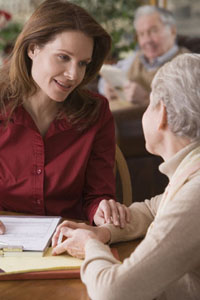 Since its inception in 1983 by President Ronald Reagan, November has been designated as National Alzheimer's Disease Awareness Month. Since then, the month's honor has extended to additionally recognize all of the nation's caregivers, like those who support patients with Alzheimer's disease and other dementias. In recognition of this national initiative, McPeak's Assisted Living is honoring its dementia patients and its staff of professional caregivers who tend to the needs of all residents.
McPeak's is calling special attention to its Alzheimer's patients and their families. Through around-the-clock professional service, 365-days-a-year, all seniors in assisted living can maintain an active lifestyle. Close family members also have the peace of mind of knowing that a caring, well-trained staff is available should their loved one need assistance.
Whether a family member or employee of an assisted living facility like McPeak's, the role of the caregiver can be both rewarding and overwhelming at the same time. According to the Help Guide Organization, there is emotional and physical stress associated with caregiving, such as anxiety and fatigue; especially among families caring for aging loved ones. Because of this, McPeak's is honoring its staff of qualified caregivers who support its residents each day.
"McPeak's Assisted Living extends an invitation to family members currently serving as caregivers to loved ones with Alzheimer's and other forms of dementias to visit our facility," says James McPeak, Owner of McPeak's Assisted Living. "Our staff of trained professionals will assist you with all of the responsibilities of caregiving, which can take a significant toll on families caring for Alzheimer's patients. McPeak's offers affordable support to dementia patients and their families to address both the needs of the resident and bring peace of mind to his or her loved ones."
With everything from post-hospital and rehabilitation care, incontinence management, medication management, full-time recreation and pet therapy, McPeak's also offers transportation services and a daily schedule ranging from arts, crafts and games to massage and musical therapies designed to aid the whole person in the quest for optimal health. The Long Island-based assisted living facility is a safe, clean environment in a former South Shore mansion that has been updated to include numerous safety features and modern amenities.
For more information, call (631) 475-0445 or visit www.mcpeaks.com.