Vietnam Veteran and Skydiving Instructor Regales Stories of His Past with Residents of McPeak's Assisted Living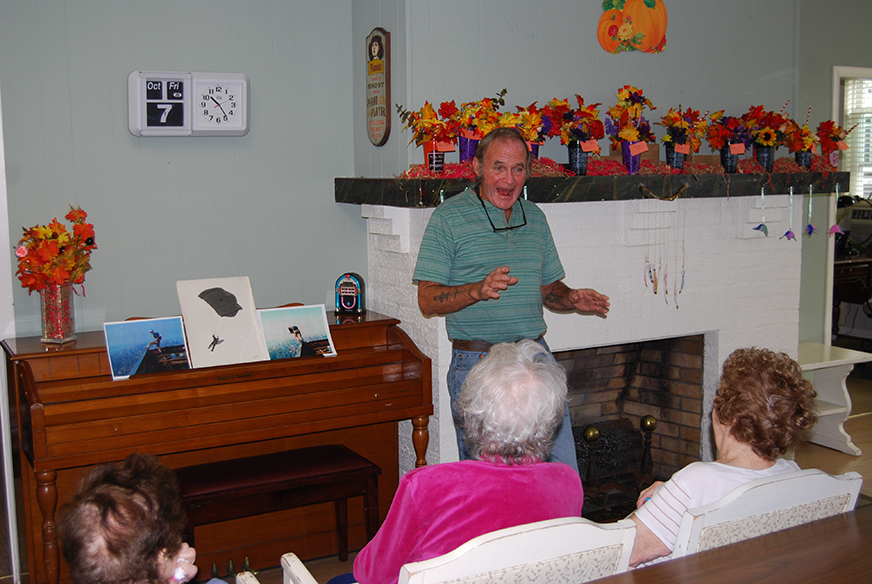 Photo Caption: Owen Quinn, who has made more than 1,000 jumps in his lifetime, displays photos of his jump off the World Trade Center in 1975 while sharing his experiences as a skydiver and an aerial stuntman during a visit to McPeak's Assisted Living in Patchogue on October 7.
Residents at McPeak's Assisted Living Facility received a surprise visit on October 7 from aerial stuntman and skydiver Owen Quinn. During his presentation, Mr. Quinn showed photos of some of his famous jumps and spoke about his career as a skydiver and an aerial stuntman, including his famous jump off the World Trade Center, as well as the skill and logistics associated with skydiving and the latest advances in accessories and safety equipment.
Mr. Quinn's interest in skydiving came while he was stationed in Vietnam through the Merchant Marines. He saw the soldiers jumping out of helicopters and knew it was something he wanted to do. So, when he returned stateside, he signed up for his first skydiving class in Danville, New Jersey.
In 1965, while in his mid-thirties, Mr. Quinn made his first jump. He later went on to record more than 1,000 jumps, which earned him the "Gold Wings" award from the U.S. Parachute Association. In addition to his accomplishments, he was an aerial stuntman, performing "wing walking" — walking across the wings of an airplane while the plane was still in flight — at air shows. Though he made his final leap in 2008, he has been a certified skydiving instructor for the past 35 years.
His most famous — or infamous — jump occurred in 1975, when he jumped off the World Trade Center. With the assistance of his friend, actor Mike Sergio, he carried his parachute up through the building, snuck his way up to the top floor, put it on and jumped, while Mr. Sergio took the photograph just as Mr. Quinn made his leap. Mr. Quinn was later arrested. His case was in courts for 12 months before it was dismissed, on the simple basis that a case of this nature had never been tried before. Coincidentally, Mr. Sergio was arrested in 1986 after parachuting into Shea Stadium with a banner reading "Go Mets!" during Game 6 of the World Series between the New York Mets and the Boston Red Sox. Mr. Quinn showed McPeak's residents the photo of his jump off the World Trade Center and an article detailing Mr. Sergio's landing into Shea Stadium.
Mr. Quinn's jump from the World Trade Center provided him with celebrity status, with even law enforcement officials and well-known politicians asking for his autograph, and was once a contestant on the game show To Tell The Truth.
After his presentation, he took questions from the residents and signed autographs for the McPeak's staff and residents.
For more information on McPeak's Assisted Living, call (631) 475-0445.