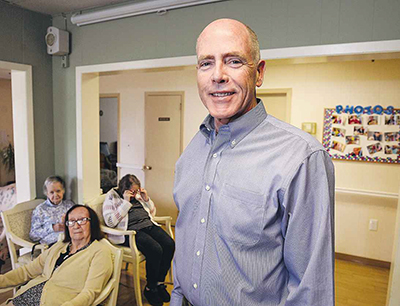 Caregiving is a family tradition for the McPeaks. Sixty years ago, registered nurses James and Katherine McPeak founded McPeak's Assisted Living in Patchogue. Today, their son James McPeak Jr. runs the 51-bed business, housed in a Victorian mansion built in 1924. With more than 75 assisted living facilities on Long Island, including many operated by big providers such as Atria, Sunrise and The Bristal, there's a lot more competition than there was decades ago. There are a number of options for potential residents, and for prospective employees.
But McPeak, 60, says his facility's small size can be an advantage. For example, "huge facilities may not be a good fit for someone with cognitive impairment," he says; they may be better off at a smaller place.
While McPeak's has a few openings right now, he said his business did not take a hit as big players have moved into the Long Island market. In fact, McPeak said, the big chains sometimes refer people to him.
Competitive pricing has helped McPeak's thrive, he said. Basic monthly rent is $3,000 for a semiprivate room.